Access Securely From Any Device, Anywhere
Create your Zintego account and work with it from any device. Feel free to use your computer, smartphone, or tablet. All account information is synchronized between your devices, so you can be in contact with your customers anywhere.
TRY IT FREE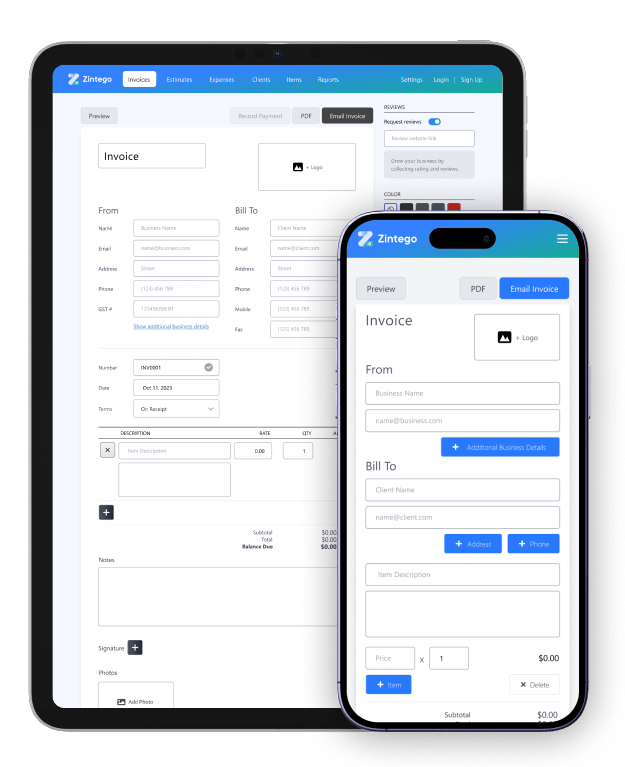 Any Device
Sign in to your Zintego account using your preferable devices. It is available for smartphones and PCs.

Data Synchronization
Your account information is synchronized between all your devices. Feel free to change them anytime.

Security
Zintego provides protection for your account. You can be sure that you won't lose your precious information.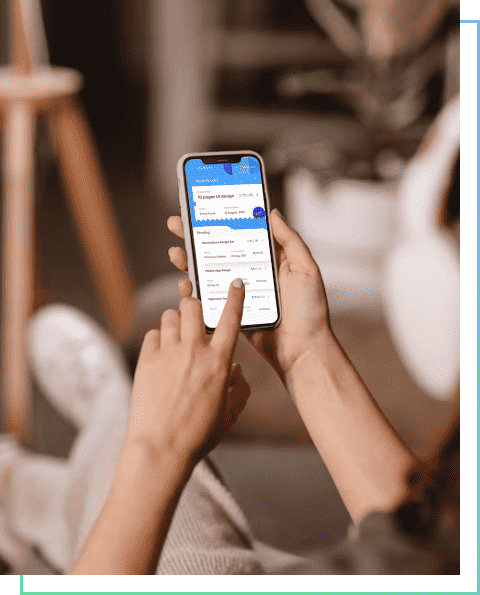 Meet Sarah
The Owner of Candy Store
Sarah faced a daily struggle with traditional bookkeeping and invoicing. Her business hours were often dominated by the arduous task of manually creating invoices, leaving her with little time to actually do the work she loved. The potential for errors in calculations was a constant source of anxiety. However, Sarah's professional journey took a significant turn for the better when she discovered Zintego. This remarkable tool has not only simplified her invoicing process but also added a touch of professionalism to her business operations. Zintego's intuitive interface and customizable templates have transformed Sarah's invoices into sleek and personalized documents, showcasing her brand identity. With Zintego's automated calculations, Sarah no longer worries about mathematical inaccuracies, and the time she saves can now be devoted to expanding her freelance business. The cloud-based accessibility of Zintego allows her to create invoices from anywhere, whether at home or on the go. Moreover, the built-in record-keeping feature keeps her financial data organized and easily accessible.
Read More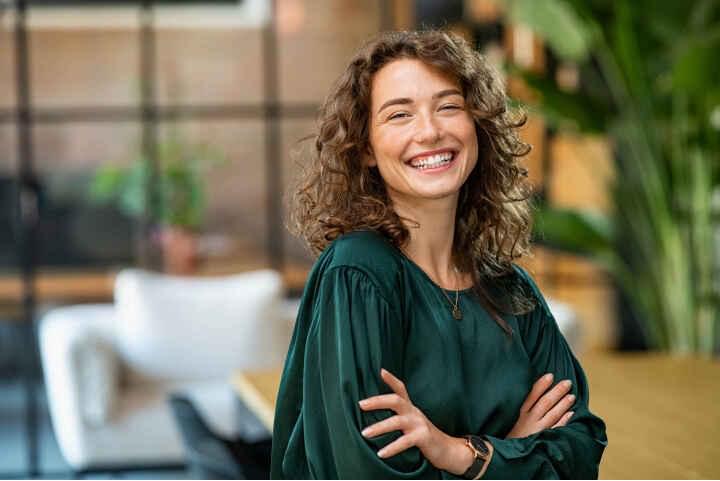 Loved by
Customers
and
Critics All over the World
Switching to Zintego has been a game-changer for my marketing consultancy. I've tried several invoicing tools, but Zintego's seamless interface and powerful features set it apart. Creating and customizing invoices has become a breeze, and the professional templates add a touch of sophistication to my client interactions. The ability to effortlessly incorporate my branding has been a significant plus. Zintego has not only simplified my invoicing process but also made it easy to track payments and manage outstanding balances. It's a must-try for anyone seeking an efficient and polished invoicing solution.
Jessica Reynolds
Founder
Market Dynamics Solutions
Zintego has proven to be an invaluable asset for my freelance writing business. I can't express enough how user-friendly and efficient it is. The ease of creating invoices, estimates, and receipts has drastically reduced the time I spend on administrative tasks. The customization options not only make my documents look professional but also allow me to maintain a consistent brand image. The mobile app is a game-changer, providing the flexibility to manage my finances wherever I am. Zintego has genuinely made the invoicing process a breeze and, dare I say, even enjoyable! If you are looking for a reliable and user-friendly invoicing solution - try it!
Sophie Martinez
Writer
Freelancer
Discovering Zintego has been a game-changer for my small design studio. I've tested several invoicing tools, but none have matched the seamless experience and professional touch that Zintego offers. The ease of creating and customizing invoices has saved me valuable time, and the templates provide a polished look that aligns perfectly with my brand. Managing payments and keeping track of outstanding balances has never been easier, thanks to Zintego's intuitive features. If you're in search of an invoicing solution that combines efficiency with a sleek presentation, I highly recommend giving Zintego a try.
Alexandra Turner
Creative Director
Design Harmony Studios
Zintego has revolutionized the way we manage finances in our boutique marketing agency. Its intuitive design and efficiency have significantly streamlined our invoicing processes. Creating detailed invoices, estimates, and receipts has become a quick and straightforward task. The customization options have allowed us to maintain a consistent and professional image across all client communications. The mobile app is a great asset, enabling our team to stay on top of financial matters from anywhere. Zintego has truly made financial management a smoother and more enjoyable experience for our agency.
Jonathan Rodriguez
Co-founder
Stellar Marketing Solutions
Build a Custom Invoice
Create the perfect invoice for your business with
our Online Invoice Generator.
TRY IT

→